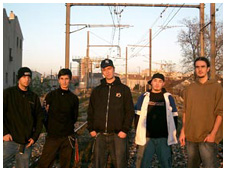 Line Up :
Ju : Chant
Rom : Guitare
xJBx : Basse
Tchang : Batterie
xMarcx : Guitare (01/2003 - 11/2005)
Greg : Chant (2002 - 2004)
Pascal : Guitare (2002 - 01/2003)
Discographie :
Enemy of a world gone blind (2008)
Marseille Hardcore (EP - 2008)
Choose your side (Réedition - 2006)
Those days are gone (2005)
Knowledge is the key ... (EP - 2004)
Choose your side (Démo - 2003)
Site Internet :
Myspace : http://www.myspace.com/nsbs
Contact :
CUSTOM CORE
BP 524
13681 AUBAGNE CEDEX (France)
Ju : +33 (0) 672 614 199

info@customcore.com
nsbs@customcore.com

None Shall Be Saved, groupe de old to new school HxC marseillais s'est créé à la fin 2002 à l'initiative de JB (Working Through) et Greg (Disturb, X-Krucia) tout deux ex-Jefferson Darcy, vite rejoints par plusieurs membres de groupes marseillais : Tchang un ancien Insane, Julien de Soulriver (et désormais Disturb), Romain de Saïlence et Pascal de P38. Après un petit changement de line-up au mois de Janvier 2003 avec le remplacement de Pascal par Marc (ex-Positive Pain), None shall be saved donne son premier concert sur Marseille avec Disturb et Tears Eviction. Entre Mai et Juin 2003, le sextet enregistre une première démo 6 titres en 4 Jours 'Choose Your Side' qui sort sur le label Several Bleeds Records au début de l'été. Grâce à leurs prestations scéniques énergiques aux côtés d'Unfit, Kubrik et d'Inmate, le groupe se fait remarquer par le jeune label aubagnais Customcore qui décide de les signer. Après un nouveau changement de line-up (départ de Greg, un des deux chanteurs), None shall be saved enregistre son premier maxi 6 titres 'Knowledge is the Key…', qui sort au début du mois de mai et distribué par Overcome en septembre. Le groupe enregistre ensuite avec Christian Carvin sont premier album 'Those days are gone', qui sort en Septembre 2005 chez Customcore. Une réedition re-masterisé de leurs première démo est sortie en Mai 2007 avec un titres bonus et un clip.
| | |
| --- | --- |
| | |
| Enemy of a world... | Marseille Hardcore |
| | | | |
| --- | --- | --- | --- |
| | | | |
| Réedition Choose... | Those days are... | Knowledge is... | Choose your side |
Enemy of a world gone blind

CD 12 titres (Digipack) - Customcore Records (DRUG036) - 30 Janvier 2009

Story of Courage / The Warriors / Street Corners / Who Do You Think You Are ? (feat. Mich Disturb) / Going Nowhere / More / Selfish Man (feat. Pierre Knuckledust) / The Struggle goes On (feat. Fred Unfit) / Burning Wings / Against the World / Land of Liberty / Better Days

Marseille Hardcore

Maxi CD 4 titres - Customcore Records (DRUG034) - Octobre 2008

Against the world / Going Nowhere / Burning Wings / Fear and Consumption


Choose your side

[Réedition] Maxi CD 8 titres - Customcore Records (DRUG021) - Mai 2007

Intro / None Shall Be Saved / Can't trust no one / Waste of life / Our values / The heavy weight of the lie / Slay the devil inside / Can you hear (feat. Bastard / Fat Society)

Those days are gone

CD 12 titres - Customcore Records (DRUG010) - Septembre 2005

Beyond the disguise of good ... / Underneath the truth / Death and rebirth / Faceless friend / Payback / Can you hear / None Shall Be Saved / Our values (feat. Greg / IWIN, Bastard / Fat Society et Fred / Unfit) / Requiem for my dream (feat. John / Saïlence) / Enemies (feat. Mich / Disturb) / Breathe of life / ... Hides the soul of the devil

Knowledge is the key...

Maxi CD 7 titres - Customcore Records (DRUG001) - Mai 2004

Intro / Rules are said / Can't trust no one / Wasted of life / Enemies / Slay the devil inside / Positive pain

Choose your side

Démo CD-R 6 titres - Several Bleeds Records (SBR-D 002) - Juin 2003

None Shall Be Saved / Can't trust no one / Waste of life / Our values / The heavy weight of the lie / Slay the devil inside
Enemy of a world gone blind

[Promo] Sampler CD ? titres - Customcore Records (DRUG 036 PROMO) - Septembre 2008

Street Corners / ???

Those days are gone

[Promo] Sampler CD 4 titres - Customcore Records (DRUG 010 PROMO) - Juin 2005

None Shall Be Saved / Faceless Friend / Enemies (feat. Mich / Disturb) / Breath of life